October 10th: Potluck & Demo
Day & Time:
October 10th, 2017
6:00-8:00 PM
Location:
Natural Grocers
201 Coburg Road
Eugene, OR 97401
www.naturalgrocers.com/store-location/eugene
What to bring?
Anything from Nourishing Traditions or the Healthy 4 Life booklet is wonderful.  A simple homemade meal made from scratch using natural fats would be a great contribution.
Some examples include: a roasted chicken or other meat, meat and vegetable casserole, a dish made with soaked grains, soup using homemade bone broth, pastured egg quiche or other egg dish, organic salad with homemade dressing, steamed or roasted vegetables with butter or cream sauce, fermented vegetables, fresh or cooked fruit with raw whipped cream.
Bring enough to share with everyone and be sure to include some traditional fats!
We'd also like to encourage you to bring your own plate and utensils to help us reduce the use of disposables.  Thanks!
Demos: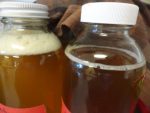 We will have two short demos.  I will be presenting a demo on kombucha, and a guest presenter will do a demo on Jun.  Jun is similar to kombucha but is made with green tea and honey instead of black tea and sugar.  We will discuss the differences and similarities between the two beverages.
We will have SCOBY starters for both drinks available for a donation of any amount to the Weston A. Price Foundation!  Please bring your own jar to take one home.
PS: Sorry for the delay in getting this out to you.  I've been having technical difficulties.