Monthly Potlucks: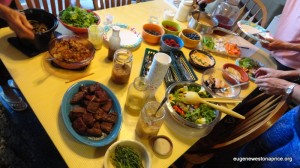 When: Second week each month (days rotate).
(See Newsletter for most up-to-date information)
Time: 6:30 – 8:30 PM
Where: Natural Grocers, Eugene
The Eugene Chapter currently holds a dinner potluck which is frequently on the second Monday or Wednesday of each month.  Sometimes they include a meeting, sometimes a food demo, and sometimes a farmer comes to introduce us to his or her farm.  And there is always interesting conversation!  They rotate days of the week to allow more people to attend.  The best way to stay informed about upcoming potlucks is to Sign up for our Newsletter.
Find Upcoming Potlucks:
Newsletter posts category "Potlucks"
---
Notes About Potlucks:
Eugene Chapter potlucks are a great place to sample good old-fashioned foods, meet new friends and ask questions. People who are new to this way of eating are encouraged to attend.
New to all of this?
For those of you who are new to The Weston A. Price Foundation principles please see the Dietary Guidelines and Characteristics of Traditional Diets for brief overviews.  We recommend the Healthy 4 Life booklet.  You may also read What is a "Weston Price" diet?
For more information read the Principles of Healthy Diets, and then get a copy of the book Nourishing Traditions for in-depth information and recipes (the Eugene Chapter has a few copies for sale). We also recommend you take the Guided Tour of the Weston A. Price Foundation website or explore on your own.  The website has a wealth of information including many articles and beginner videos available free online.  Check out our Recommended Reading section for more great books.
Don't know what to bring?
See the above links for general guidelines about what is recommended by WAPF. Anything from Nourishing Traditions is wonderful, but don't feel it has to be extensive or elaborate.  Any recipe in the Healthy 4 Life booklet would also be a welcome addition.  A simple homemade meal made from scratch using natural fats would be a great contribution.
Some examples include: organic salad with homemade dressing, a roasted chicken or other meat, a dish made with soaked grains, soup using homemade bone broth, and steamed or roasted vegetables with butter or cream sauce.  (Don't know how to make these things?  Come to our classes!)
Items that you can easily pick up from a natural food store include raw cheeses, naturally cured cold cut meats, sourdough bread, organic salad greens, avocado, olive oil and vinegar, fresh or frozen fruit with cream, or many other options.
Please don't worry about being perfect.  None of us are perfect.  And it doesn't even matter if you don't yet eat this way at home!
Concerned about cost?
The idea is to bring enough food to feed yourself and whoever else you bring. You do not need to bring enough food to feed a full meal to 6-12 people unless you are bringing 6-12 people! The idea is for everyone to taste each dish and have enough food to feel satisfied. Yes, real food costs more than boxed/processed/artificial food. The savings are in your health, energy and the benefit to the ecosystem.
And you will not find food this good anywhere else outside of a Wise Traditions Conference!
Concerned about time?
Our potlucks are traditionally on Monday evenings. If you have work or school on Mondays, please feel free to make your dish on Sunday and bring it to the event to heat up or assemble if needed.
Concerned about dietary restrictions or food allergies?
We frequently have people at our potlucks who are healing from food allergies and need to avoid a specific food (or many!).   Gluten sensitivity is common.  And while it is not required, we frequently have several gluten-free dishes.  It is also common to find people who cannot tolerate other specific foods (including a wide variety such as nightshade, dairy, whey, blueberries, rice, fish, oats, and many others).  Instead of asking everyone not bring these specific foods, at the beginning of each meeting everyone is asked to tell the group about the dish he or she brought.  At this time you can ask the maker if the dish has any of the specific food you wish to avoid in it.  This has always worked well for us, although we have not had anyone with a severe or life-threatening allergy attend our potlucks, and recommend exercising caution if you do have such a condition.
It is worth the effort!
Hopefully meeting new people who share a passion for good food, asking questions and learning from each other, will make it worth all the time and effort it takes to get to the event.
Suggestions?
Let us know if you have suggestions to make these events more enjoyable.


---
History:
Lisa (Chapter Leader) began organizing meetings in the fall of 2004 using the service Meetup.com. At that time we met in restaurants. As the group grew we transformed these meetings into lunchtime potlucks (and stopped using Meetup.com when they started charging for the service).  The potlucks have moved around to different members homes, and for a while they took place at co-chapter leader Victoria's covered porch.  In 2007 we added a dinner potluck which turned out to be more popular than the lunch ones.  For a while we did both lunch and dinner potlucks, but for the sake of Lisa's sanity in 2008 we dropped the lunch potlucks.  In 2013, Lisa started adding Food Demos at the beginning of each potluck.  These demos have been very popular.
We were offered the use of the meeting room at Natural Grocers, so in late 2017 we started holding our potlucks there.  We continue to have a topic each time, which will include a demo, discussion or guest speaker.