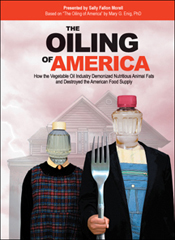 The DVD "The Oiling of America: How the Vegetable Oil Industry Demonized Nutritious Animal Fats and Destroyed the American Food Supply" is now available at the Eugene Public Library!
A Eugene Chapter, WAPF member worked with library staff to get this DVD into the library. Circulation numbers count. If you want more WAP-related DVDs in the library, be sure to check out this DVD!
Links:
As of this writing, the DVD is already checked out, with three people on the "hold" list, if you want to check it out you will need to log into your library account and place the item on hold for pick-up on the first floor of the library.
We showed this DVD at our Popcorn Reviews in December 2010 and January 2012.  Click on the links for more info.  The Eugene Chapter also has one copy remaining for sale.