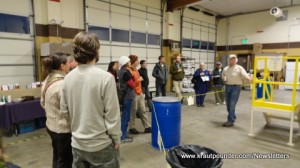 My son and I attended the open house at Camas Country Mill. We made it there for the last tour of the evening on the final day. It was very interesting.  One of the owners of Camas Country Mill gave us some background on the business, how they got into it, and what they went through to start up the mill.  Then he turned on the machine and they quickly bagged a couple hundred pounds of whole wheat flour while we watched.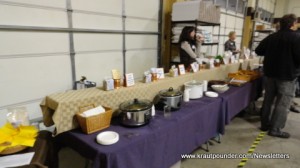 They had prepared samples made from many of their grains and beans. I don't think they know about the importance of proper preparation of grains and beans yet, but local and freshly ground is a great start!
We sampled "Faro Big Boost Salad", "Three Lentil & Squash Curry Soup with Sausage", "Sue's Soup with Turkey Sausage", and others.  My son's favorite was of course the , "Teff Brownies", Gluten-free "Chocolate Chip Cookies", and the apple cider.  My favorite was actually a simple Teff Cereal topped with cheese and sun-dried tomatoes.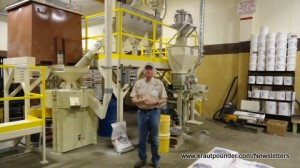 I'll have to try making some of these recipes by soaking the grains first using the techniques outlined in Nourishing Traditions.
I don't know all of the places you can buy these locally grown products, but I know they are selling at the Creswell Farmer's Market.  I think they are also available at the Eugene Farmer's Market, probably Hummingbird Wholesale, and maybe some of the local natural food stores.  If you know where these products are available please let us know in the comments below.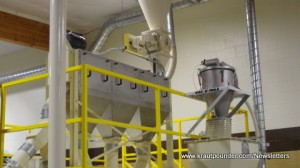 One of the owners I spoke to said that their stock of flour and grains rotates in about a month.  That is pretty good for flour available in stores.  For comparison another well-known brand we bought for the Healthy Grains class in October had an expiration date of TWO YEARS in the future!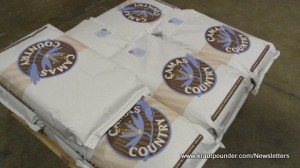 The delicate oils in grains quickly become rancid after grinding.  That is why we at the Weston A. Price Foundation recommend grinding your own flour, or buying the freshest flour possible, and then following careful preparation techniques.
For more information on the Weston A. Price website about soaking grains and beans see: