Hi all,
We have events coming up!
---
Here are some photos of our last potluck:
 We liked Natural Grocers, and will be returning there in for our potluck in August.
---
New Farm in Creswell: Lucky Ladies Farm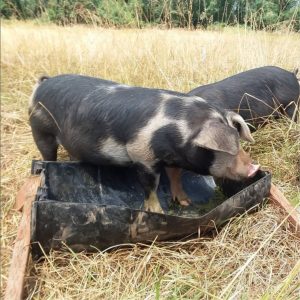 Hi, my name is Kristin and I'm a new farmer in Creswell. I have shares of pork available this fall that I thought might be of special interest to some of your members. These are rotationally pastured, heritage breed pigs being fed a corn and soy free diet (not certified organic, but locally sourced non-GMO grains and legumes, as well as goat whey and apples). There are only a few shares left but I would love if this offer could be passed on, as convenient for you.
Name: Kristin
Email: kristineppspdx@gmail.com
Three half shares available of pastured Gloucester Old Spot/Large Black pigs. The Livestock Conservancy lists both breeds as threatened, despite their hardiness and excellent pork quality. Besides pasture, their diet has been supplemented with fermented grain and field peas (corn/soy/GMO free), apples, and goat milk and whey.
They should weigh 250-300lbs by October. I am asking $3.00/lb hanging weight, which is the weight after slaughter but before butchering; it's about 72% of the live weight, so half of a 300lb hog would be about 108lbs hanging weight. Some more weight is lost during the butchering process, depending on what cuts a person chooses. If someone wants all sausage or boneless cuts and doesn't want any of the fat or bones or organs, they would get less back than if they want all bone-in cuts and want all the fat for making lard. A good average is that 80% of the hanging weight is returned as cuts, so about 86.4lbs for a half share.
At $3.00/lb hanging weight, a share buyer would pay me about $324 for the half pig. State law requires that the butcher is paid separately. I am using Farmer's Helper for an on-farm kill (no stressful truck ride for the pigs!); they charge .59/lb for the cutting and packaging, and a $55 kill fee, so for the half pig it would be around $90 to the butcher. Smoking and curing adds more to that – if you wanted your bacon and ham cured instead of getting them fresh, that could add another $20 or so.
So, altogether, $324 to me and $110 to the butcher is $434 for around 86.4lbs of pork, coming out to about $5.02/lb for what you take home.
Find out more about their farming practices at:
---
August 17: Natural Grocers 62nd Anniversary
The Eugene Chapter, Weston A. Price Foundation will have a booth at this event!  Stop by to say "hi" and pick up a few brochures.
Day & Time:
August 17th
12-4 PM
(I may just do a couple hours of that)
Location:
Natural Grocers
201 Coburg Road
Eugene, OR 97401
Website:
www.naturalgrocers.com/store-location/eugene
---
August 25th: DVD Redeeming Bread: How to Make Einkorn Sourdough
by Min Kim
I have a couple of Einkorn cookbooks for you to view before the movie.
Time:
DVD begins at 6:30 PM
Location:
Market of Choice
67 West 29th Ave
Eugene, OR 97405
(Upstairs in the Community Room)
Cost:
Free.  Donations encouraged.
Description:
Learn how to hand-craft sourdough bread that has been fermented for forty-two hours. This bread is not overly sour and has a light and airy texture. This is a no-knead technique that anyone can do at home to produce beautiful artisan bread.
Min Kim
has been a domestic engineer for the past twenty-two years.  Upon learning about traditional foods and the Weston A. Price Foundation five years ago, she pledged to her family that food would taste better than what they were used to.  This led her to learn and perfect a sourdough bread technique that not only is nourishing and kind to the body, but also is flavorful without being overly sour, and has a light and airy texture.  She now provides real sourdough bread to local families and also teaches classes on how to make this bread at home.
Want to see the DVD, but can't attend? 
Purchase your own copy from Fleetwood Onsite Recording:
View all Wise Traditions recordings available for purchase and download at Fleetwood: www.fleetwoodonsite.com
---
August 29th: Potluck
Day & Time:
August 29th
6:30 – 8:00 PM
(formerly 6:00)
Location:
Natural Grocers
201 Coburg Road
Eugene, OR 97401
Website:
www.naturalgrocers.com/store-location/eugene
Demo:
I will be presenting a demo on sauerkraut, kimchi and mixed fermented veggies.
---
September 7th: GAPS Support Group
Date & Time:
September 7th, 2017
7:15 PM
(The first Thursday of every month at 7:15 pm)
Location:
Alive Holistic Clinic:
1902 Jefferson Street,
Eugene, OR.
Lead by: Mary Ruddick & Ann Tepperman
The Gut and Psychology Syndrome (GAPS) program is a healing regime based on change of diet to allow the body to detoxify and heal. It was originally designed for healing autistic children, but since that initial research, it has also been found to heal numerous other health problems, including ADD, MS, autoimmune disorders, digestive disorders, dyslexia, IC, mood disorders, nervous system disorders, epilepsy, etc.
Read more: eugenewestonaprice.org/gaps
---
September 22nd: DVD – Traditional Foods for Preventing Tooth Decay & Gum Disease
Postponed.  Stay tuned for more info.
This is a great presenter and great topic!  His other talks have been very popular.
At Market of Choice
---
October 1st: Fun With Fermentation
The Eugene Chapter, WAPF has participated at this event for many years.  This year it has moved from January to October, which is a perfect time to think about ferments!
Day & Time:
Sunday, October 1st
11 AM – 4 PM
Location:
Lane Community College
101 W 10th Ave
Eugene, OR 97401
---
October 5th: GAPS Support Group
Coming up next month.  Save the date!
Alive Holistic Clinic
---
Please check out The Weston A. Price Foundation website, there are many resources for you to use:
Resources:
Join the Weston A. Price Foundation today!
---
And as always, check out the online version of this newsletter and our local Eugene area website for updates, link corrections and many more resources.
Enjoy!
– Lisa